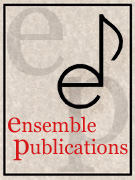 McCarty, Patrick
Sonata [piano reduction]
The Sonata for Bass Trombone is one of the most popular works for this instrument*, written and first performed in 1962 at the Eastman School of Music. It is a tonal work set in three movements, "Allegro Non Troppo", "Andantino", and "Vivace". The outside movements display the versatility of the bass trombone with their use of technique and range, while remaining melodic. The middle (slow) movement displays the instrument's lyrical qualities. This work has been recorded by Jeff Reynolds, bass trombonist of the Los Angeles Philharmonic Orchestra, on Crystal Records.
*A recent survey published in the Winter 1999 ITA Journal shows that the McCarty Sonata was the second most popular bass trombone solo performed, based on an analysis of faculty & student recital programs published since 1971.
The first movement was performed on National Public Radio's program "From The Top" by then 17 year old Louis Bremer. Click Here to hear Mr. Bremer's performance (Search for McCarty).
(PDF-1.1Mb)
| | |
| --- | --- |
| Category: | Bass Trombone & Piano |
| Voicing: | n/a |
| Catalog No: | ENS014 |
| UPC No: | 659550001403 |
| Price: | $ 17.95 |