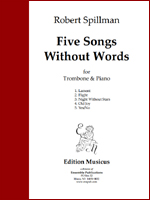 Spillman, Robert
Five Songs
21st Century (2019). Set in 5 movements, each movement gives the performer wide opportunity to express picturesque movement titles:
Lament - an easy-going pace where the soloist and pianist trade motion and focus. with lots of movement in the piano
Flight - a moderate up-tempo 2/4 over 6/8 feel movement with a gliss element that adds sparkle.
Night Without Stars - a calm movement where the soloist floats over a shimmering piano accompaniment.
Old Joy - 4/4 Allegro movement with an active accompaniment supporting soaring solo lines.
Yes/No - a quick 3 with plenty of excitement in both parts.
Robert Spillman is best known in the low brass community for his trio of compositions dating from the 1960's: the Bass Trombone Concerto (1962), Four Greek Preludes (1969), and Two Songs for Tuba (1963). This new work demonstrates the composer's ongoing gift and skill nearly 60 years after his first big hit.

| | |
| --- | --- |
| Category: | Trombone & Piano |
| Voicing: | n/a |
| Catalog No: | EM469 |
| UPC No: | 659550346900 |
| Price: | $ 25.00 |