Breaking News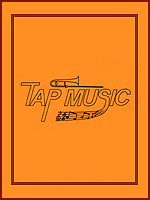 Ensemble Publications Acquires TAP Music Sales
On October 12th, 2019, TAP Music Sales (formerly Trombone Association Publishing of Western Massachusetts) was acquired by Ensemble Publications. The addition of TAP to the Ensemble catalog brings with it nearly 1,200 titles, many of which are lesser known works of high quality. We have finished merging the TAP catalog into Ensemble and now have it here for you to browse. The entire catalog, along with all our other holdings, can be download in Excel format here.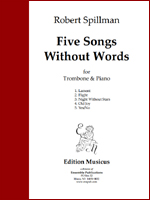 Five Songs
by Robert Spillman
for Trombone & Piano
Set in 5 movements, each movement gives the performer wide opportunity to express picturesque movement titles: Lament; FLight; Night Without Stars; Old Joy; and Yes/No.


(sample pages)
Price $25.00
Catalog No: EM469. UPC: 659550346900
Available Now
---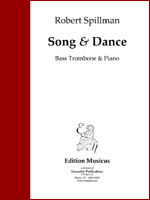 Song & Dance
by Robert Spillman
for Bass Trombone & Piano

Written for Jonathan Warburton, and then extensively revised by the composer, this two-movement work features a free-spirited Ballad, followed by an up-tempo Hoe Down.


(sample pages)
Price $20.00
Catalog No: EM468. UPC: 659550346801
Available Now
---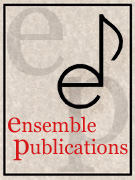 Solo Studies for Bass Trombone
by Matt Neff


Solo Studies for Bass Trombone was written for use in instruction and performance. The intent is to give the bass trombonist a variety of unaccompanied solos for use in lessons, masterclasses, studio classes and recitals. It is important to realize that versatility requires listening to many styles.


(sample pages)
Price $15.00
Catalog No: ENS087. UPC: 6595500008709
Available Now
---
Six Quartets, Op. 35 (1910)
by Nikolai Tcherepnin
Arranged by Charles De Paolo
for Trombone Quartet

Originally composed in 1910 for horn quartet, this six movement work is here transcribed for TTTB trombone quartet. Movements include Night (Nocturne); An Old German Song (Ancienne Chanson Allemande); The Hunt (La Chasse); Dancers (Choeur Dance); A Popular Song (Un Chant Populaire Russe); Chorale (Un Choral). For advanced players. Score & parts.

(horn quartet performance)
Price $20.00
Catalog No: EM069TN. UPC: 659550406956
Available Now
---
Ensemble News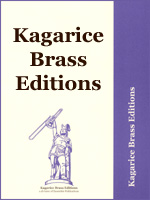 Kagarice Brass Editions Joins Ensemble Publications
On January 1st, 2016, Kagarice Brass Editions joined Ensemble Publications. The legacy of University of North Texas trombone professor Vern Kagarice, KBE has become reknowned for its interesting and varied catalog of trombone and brass music. The transition is largely complete, and now most titles are available for ordering. This website now contains all available Kagarice editions alongside our other publications. The website www.kagarice.com remains active for browsing and sampling, and is now able to accept payments via PayPal (for Kagarice items only). Stay tuned for updates!
---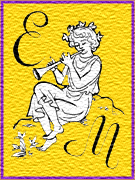 Edition Musicus is now a part of Ensemble Publications.
In the spring of 2015, Ensemble Publications acquired the publishing company Edition Musicus, formerly of Botsford/Fairfield/Stamford Connecticut. The transition is largely complete, but there remain items still to be "discovered," catalogued and made available once again. A complete catalog is now available to browse or to download in Excel format. These are continuously being updated and expanded as more items are located and catalogued. A spreadsheet detailing catalog updates is now available here. If you do not see an item but know it to be Edition Musicus, please contact us about its availability.
---
Previous New Releases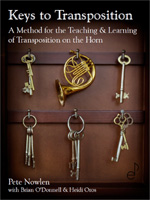 Keys to Transposition
A Method for the Teaching & Learning of Transposition on the Horn
by Pete Nowlen, Brian O'Donnell & Heidi Oros
Horn players need to transpose. Keys to Transposition is a complete method devoted to teaching this essential skill. This method provides a concrete strategy to master transposition by building skills through exercises and excerpts from the horn literature. Includes helpful transposition tips, musical advice & practice techniques. 88 pages.


(sample pages)
Price $24.95
Catalog No: ENS134. UPC: 659550013406
Available Now
---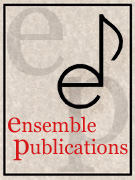 Concerto for Trombone
by Nikolai Rimsky-Korsakov
Edited by Dr. Timothy Hutchens
for Trombone & Piano

Romantic (1878). Revised and corrected 2018 edition by Dr. Timothy Hutchens features an urtext approach, with all the editorial additions that have crept into this work over the years removed. The solo part is how Rimsky-Korsakov intended it to be, free of octave displacements, altered phrases and other modifications. Equally important, this edition also features a new piano part that is both easier to play and, as a reduction, conforms more closely to the original band score. Includes Forward by Douglas Yeo and Editor's Notes by Dr. Hutchens. Solo part in bass clef throughout, and is nicely laid out over six pages with easy page turns. Both parts feature rehearsal markings to coordinate with earlier editions.

Price $16.00
Catalog No: ENS085. UPC: 659550008501

Available Now
---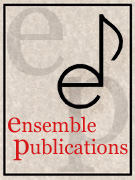 Extremely Close
by Daniela Candillari
for Bass Trombone & Piano

21st Centiury (2016). A set of five songs written for bass trombone and piano. Premiered by Nick Schwartz (New York Ballet Orchestra), March 12, 2016 at Duquesne University, Pittsburgh. Performed by James Markey (Boston Symphony Orchestra) at the 2017 ITF in Redlands, California. Duration: 16'

Price $24.00
Catalog No: ENS131. UPC: 659550013109

Released: June, 2017