Kagarice Brass Editions Joins
Ensemble Publications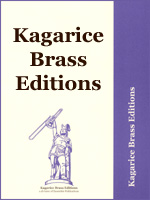 On January 1st, 2016, Kagarice Brass Editions joined Ensemble Publications. The legacy of University of North Texas trombone professor Vern Kagarice, KBE has become reknowned for its interesting and varied catalog of trombone and brass music. The transition is largely complete, and now most titles are available for ordering. This website now contains all available Kagarice editions alongside our other publications. The website www.kagarice.com remains active for browsing and sampling, and is now able to accept payments via PayPal (for Kagarice items only). Stay tuned for updates!
---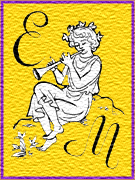 Edition Musicus is now a part of Ensemble Publications.
In the spring of 2015, Ensemble Publications acquired the publishing company Edition Musicus, formerly of Botsford/Fairfield/Stamford Connecticut. The transition is largely complete, but there remain items still to be "discovered," catalogued and made available once again. A complete catalog is now available to browse or to download in Excel format. These are continuously being updated and expanded as more items are located and catalogued. A spreadsheet detailing catalog updates is now available here. If you do not see an item but know it to be Edition Musicus, please contact us about its availability.
---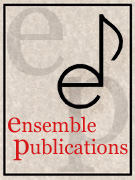 Four Pieces, from Morning & Evening Prayer
by Thomas Caustun
Adapted and arranged by Branford DeVos and Douglas Yeo
for Trombone Quartet
Collection of four works transcribed by Branford DeVos from vocal part books entitled Morning and Evening Prayer, a collection of works originally published in London, 1565. Score & parts. The four selections are:
The Communion
Magnificat
Nunc Dimitis
Exaudiat te Dominus (by John Taverner adopted by Caustun).

(score sample)

Price $18.00
Catalog No: ENS451. UPC: 659550045100
---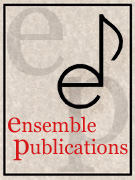 Hommage in Memory of Ray Premru
by Josh Hauser
for Trombone Quartet

A short work reflective of the early trombone music written by Ray Premru, longtime bass trombonist of the London Philharmonia Orchestra and later, professor of trombone at Oberlin Conservatory.


(score sample)
Price $15.00
Catalog No: ENS450. UPC: 659550045001

---
Five Pieces for Bass Trombone
by Nelson Riddle
for Bass Trombone & Brass Quartet
for Bass Trombone & Piano - NEW

Now available in an edition for bass trombone & piano!

Five Pieces was written by one of the pre-eminent American composers of the 20th Century. Riddle has composed or arranged for the likes of Frank Sinatra, Ella Fitzgerald, Nat King Cole, Judy Garland, Dean Martin, Peggy Lee, Johnny Mathis, Rosemary Clooney, Keely Smith and Linda Ronstadt. He was also the composer of a number of popular television and movie themes, including those of Barnaby Jones; Batman; The Bob Newhart Show; Emergency; Oceans 11; Robin and the 7 Hoods; Route 66; and more.

In the late 1960's, in the midst of his busy career, Riddle was approached by Dick Noel to compose a solo work for bass trombone for use on the LP record album Practice Makes Perfect, an early music-minus-one type project. On the LP, the work was performed by none other than George Roberts, "Mr Bass Trombone" himself, backed by the Academy Brass quartet. One of the earliest works written specifically for the bass trombone, Five Pieces has become a legend in the bass trombone world. This long out-of-print "lost" chart is now available in a clean modern edition, free of the numerous errors and omissions of the original. The editor has also included performance advice (tempos, styles, et cetera) lacking in the original scores, so that today's players might better understand the composer's intentions and also better emulate the style of Roberts. All advice is parenthetical, and may be ignored as desired.

Includes full score and parts for solo bass trombone, 2 trumpets, horn and tuba.

(PDF) (bass trombone & brass quartet)


(PDF) (bass trombone & piano)


(MP3) (bass trombone & brass quartet)
Ordering Info

---

Format
Catalog No.
UPC
Price
Solo & Brass Quartet (original)
ENS126
659550012607
$45.00
Piano Reduction
ENS126A
659550012614
$32.00
---
Geological Survey
by Manny Albam
for 12-Part Trombone Choir

Geological Survey was composed for Emory Remington and the Eastman Trombone Choir in the 1960's. It uses stylistic elements from the rock and jazz idioms, elements that were not typically found in the traditional "legit" music of the time. Remington embraced the work in accordance with his belief that his students should be capable of meeting every type of performance demand. Ensemble Publications, in cooperation with the Albam estate, is proud to make Geological Survey available for sale for the first time ever. This newly engraved legal edition corrects numerous errors found in the many multi-generational photocopies that have survived the 40+ years since its first performance. For 12 trombones (9 tenors and 3 basses) in three equal four-part choirs. Full score & parts.


(score sample)
Price $36.00
Catalog No: ENS905. UPC: 659550090506
---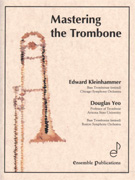 Mastering the Trombone, 4th Edition
by Edward Kleinhammer and Douglas Yeo
For all low brass. Written by Edward Kleinhammer in collaboration with his former student, Douglas Yeo, Mastering the Trombone represents Edward Kleinhammer's most recent thinking regarding the essential elements of trombone playing. His clear, step-by-step, common-sense approach to the fundamentals of performance cover every aspect of playing including rhythm, legato, buzzing, tone quality, breath control, a daily routine, preparations for taking auditions and much more. All trombonists, from the beginning student to the most seasonsed professional and including both tenor and bass trombonists, will appreciate the over 100 musical examples and exercises that systematically guide players through the skills required in the process of Mastering the Trombone. 76 pages with illustrations, exercises and examples.

Price $25.00
Catalog No: ENS123. UPC: 659550012300
---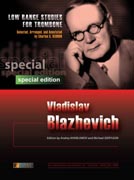 Low Range Studies
by Vladislav Blazhevich
Low Range Studies for Trombone is a subset of etudes from the famous School for Trombone in Clefs (aka "Clef Studies"). They have been selected, transposed, edited and annotated by Chicago Symphony Orchestra bass trombonist Charles Vernon. Mr. Vernon has selected 60 of his favorite studies to help tenor trombonists with low range development, and to provide bass trombone players with some extra "bread and butter range" etudes.
Mr. Vernon believes it is important for tenor trombonists to maintain this vulnerable register on a daily basis. Second trombone and bass trombone players constantly play in this register in ensembles. Tenor trombonists who don't work in the middle/low register will have many difficulties playing these studies. This register is a primary building block to producing a free, open and easy sound over the entire range of the instrument. 59 pages.

Sample Pages:


(PDF) (Etude No 10)


(PDF) (Etude No 24)


(PDF) (Etude No 45)


(PDF) (Etude No 59)
Price $24.95
Catalog No: EWM103. UPC: 659550951043